Spower Windows Password Reset Professional Serial Key
Wireless Password Recovery
This is a useful tool for any home or business wireless network. It provides features for analyzing the security status of your wireless network and recovering lost WPA-PSK passwords. The program is the only one of its kind in that it employs powerful password recovery methods which are exclusively developed by Passcape Software. Although it is not a utility to hack wifi password, it helps to identify weak spots in your wireless network, conduct fully comprehensive audits of its security status and recover lost WPA keys so that you can regain access to your wireless network without having to manually reset the router.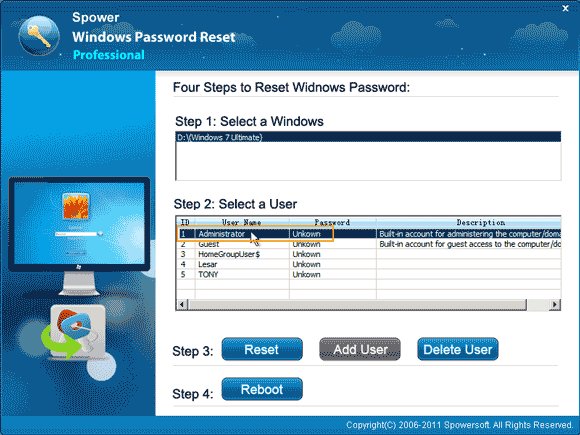 My son cannot remember his Windows Vista login password on his laptop and we do not have a reset disk. Short of taking it to a repair center, is there any way he can crack the password himself?
Keygen Spower Windows Password Reset Professional.rar - DOWNLOAD (Mirror #1). Get great discounts and special offers when you shop at Windowspasswordreset.com with Windows Password Reset coupons.You can own a bunch of useful and powerful software products from Password Recovery Tools, Windows Password Reset Tool to Office Password Recovery. Software piracy is theft, Using Spower Windows Password Reset Pro crack, password, registration codes, key generators, serial numbers is illegal. Latest Versions History. Version: 3.0.0.6. Release Notes: The new version add some function. Review Spower Windows Password Reset Pro. Operating System: Windows XP,Vista,7,8,8.1,10 File Size: 2.51MB System Requirements: Intel Pentium 4 or higher. Atleast 512MB RAM Number of Downloads: 108.
Forgot Windows Vista password? It's truly that computer users have a tendency to forget the administrator password. If you can't recall the original password, you'll be stuck at the login screen. In this article I'll show you how to crack Windows Vista password with a USB drive. In the event that you forget your password, you can easily use the USB drive to crack the password and log onto your computer.
How to Crack Windows Vista Password with USB Drive?
To get started, we need to find a Windows Vista password cracker utility. Here I'm going to use Reset Windows Password tool, which comes as a Live CD ISO image that can also be burned onto a USB drive. Boot your locked computer from the USB drive and you can crack Windows Vista password easily. Here is the step-by-step instructions:
Download the Reset Windows Password utility onto an accessible computer. Unzip the download file, you'll find an ISO image file: ResetWindowsPwd.iso.
Burn the ISO image to your USB drive using ISO2Disc tool. If you have important data on your USB drive, I recommend you make a backup firstly. The burning procedure will format the USB drive and erase all data on it.
Plug your USB drive in to your Windows Vista computer whose password you want to crack.
Go into the computer BIOS and set USB device as the first boot device.
Turn on your computer and it will then boot from your USB drive. After a while, it will launch the Reset Windows Password utility.
On the screen, choose your desired user account and then click on the Reset Password button. It will blank your forgotten password immediately.
Unplug the USB drive from the computer and restart it. You can then log on to Windows Vista system with a blank password.
That's all! If you want to set a new password for your computer to prevent unauthorized accessing, ensure that the password you are going to set is convenient for you to remember and will not be lost again.
Spower Windows Reset Professional
Related posts:
Spower Password Reset Software
Comments are closed.